Solar powered wireless screens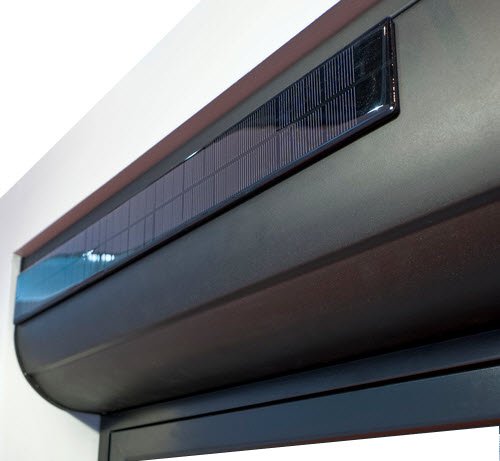 Solar powered wireless screens are powered by a solar panel which feeds a battery that in turn powers the motor.
A big advantage of this setup is that you don't need external power for the screen.
And don't need to drill through walls to run cables to the screen.
Just fix the screen to the wall with a few screws and that's it
Prices
Prices start from  £696 including VAT and delivery for a 100 cm x 100 cm screen.
The largest is 400 cm wide x 260 cm high, which is  £1508 including VAT and delivery
These prices are based on a minimum of 3 screens.
Please send a mail to [email protected] for a quote.
We can ship the screens world wide. When you're outside of the UK, please mail us for a quote.
Fabrics
There is a wide range of fabrics available.
You can choose from 73 different colours from the Soltis 86 and Mermet Satin 5500 collections.
Swatches are available upon request and are sent free of charge.
Warranty
The warranty on the motor is 7 years.
The battery comes with a 5 year warranty, as does the screen itself.